Taking the bus to ABJ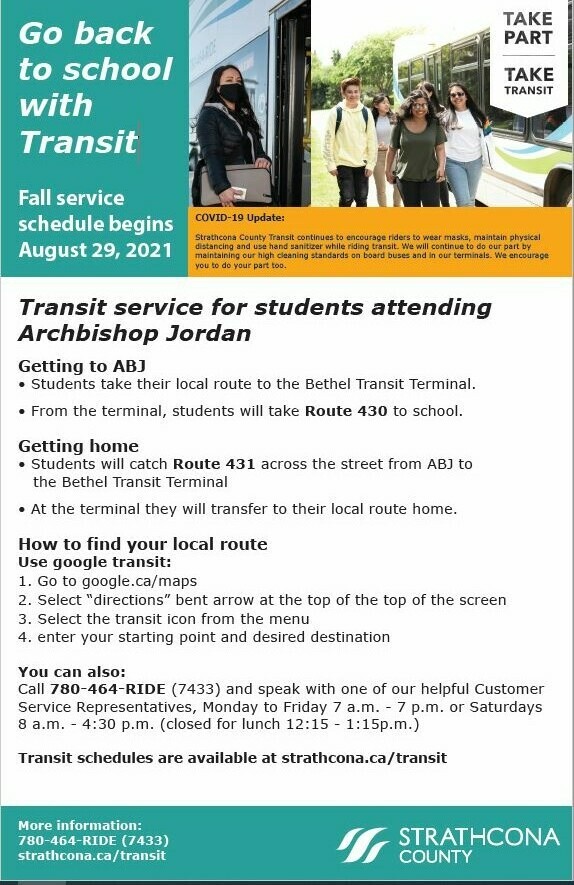 How to log onto Google Meet in Spanish and Tagalog
Student Services
Archbishop Jordan's philosophy is to meet the needs of all students and assist them to develop physically, mentally, socially and spiritually in a Catholic community and living the Gospel value of "Everyone Belongs."
In our school, we follow an inclusive model, where all our students participate in the classroom and the broader school setting. We provide a caring supportive environment for students with behavioral, communication, intellectual, learning and physical challenges.
Our students are encouraged to foster an understanding of their strengths, so that they can develop a strong sense of self-worth. In addition, we provide opportunities for all students to participate in school activities so that they better understand their interrelationships with others and continue to build on their strengths. When children are valued, listened to, encouraged, understood and believed in; they will be successful.

SERVICES PROVIDED

We offer a team approach, consisting of parents, teachers, educational assistants, counsellors and administrative support.

Support services are available in the following areas:
Occupational Therapy
Speech and Language Therapy
Psychology
Behavioural Consulting
Assistive Technology
English as a Second Language services.
The following support services are available externally:
Audiology
Physical Therapy
Vision
Family and Community Services as well as other specialized services.
Students are supported in a variety of ways, including:
Classroom and physical accommodations
Use of assistive technologies
Instructional accommodations
Testing accommodations.

**Students can complete a fully modified curriculum, the Knowledge and Employability curriculum, or the high school diploma curriculum; or combination of any of these.

Our Student Services Facilitators will be happy tarrange a meeting, talk tyou on the phone or communicate through email tanswer any questions or concerns. Their contact information is:


Due to the extremely busy nature of this department it is necessary to make an appointment to meet; unscheduled visits unfortunately cannot be accepted as they often interfere with our services to students.
ABJ Gold Book
School Policies
ABJ Locker Selection Procedures
New locker selection procedure at ABJ!
Grade 10, 11 and 12 students can choose their own locker. Please Note: Students in Grade 9 will be assigned their lockers.  Locks, combinations and lockers will be on the Grade 9 schedule. 
Students will need their ABJ student ID and ABJ supplied lock combination to sign in. If you do not have your school assigned lock, a new one can be purchased for $10.50 in the front office.
Website for login – abj.lockerassignment.com.   Student accounts have been created for access to the system.
User id - ABJ 6 digit student number.   Password - Student initials and student number.  For example: John Doe with student number 123456 would have a password of 'JD123456'.
** Student initials must be Capital Letters.   Upon sign in, students will be prompted to create a new password.
Students can ONLY choose from their Grade Zone as follows: Grade 10–Main Floor, Grade 11–Second Floor, Grade 12–Second Floor 
Locker maps are posted on website.    *Please choose and confirm locker online BEFORE putting your lock on the locker.*
*Only school issued locks are allowed on lockers.  Only 1 student per locker is permitted, there will be no student sharing allowed.
Students can login at any time to view their locker combination if they forget it.