JUNE EXAM SCHEDULE 2019
Ukrainian Day Thursday May 16 @ ABJ
ABJ Week of May 20-24
Coming Soon!
Click on the link above for information on the upcoming week at ABJ!
POWERSCHOOL LOGIN
ABJ Information on One Match Stem Cell and Marrow Work
EICS Summer School Information 2019
EICS Summer School Information
All registrations must be completed using the EICS PowerSchool Parent Portal. All
fees will be posted there and must be paid prior to June 28, 2019. There will be no
changes made to student timetables after June 28, 2019. Registrations will be
locked.
WELCOME TO ABJ FOR 2018-2019!
Greetings!  The staff of ABJ would like to welcome back all of our returning students, and we are excited to welcome all of our new students joining us for the upcoming school year.  ABJ is an amazing school that is focused on connecting students with our Catholic faith, student learning and preparing our students for their future beyond high school!
Important Reminders:
Regular school supplies will be provided by the school – pens, pencils, binders, etc.  If students wish to bring specific or specialized items, they may do so on their own. Returning students are encouraged to use their previous supplies, but may replenish these if needed.  Grade 10 students who are taking Math 10C will be loaned a TI84 (graphing calculator) and grade 9 students will receive a scientific calculator that they will keep.
Returning students should bring their assigned school lock from last year or they will need to purchase a new one for $10.00.
Students are invited to bring a device to school as part of our "One to One Project".  This year, Elk Island Catholic School will no longer be offering the Chromebook lease program.  ABJ recommends that students bring a device that will work best for them and their learning style.  The device should be compatible with Google Apps for Education (also known as the Google Suite) – Google Docs, Google Drive, etc.  We recommend that the screen is large enough for a student to complete assignments, take notes, and edit work, etc. The amount that a student may use the device will vary depending on the nature of the course and their teacher's expertise.  We do not recommend students to use a smartphone for the "One to One Project". Please also note that students are expected to follow the One to One User Agreement - https://www.eics.ab.ca/download/100432 .
Course changes can be made during registration dates and during the first week of school in September.  Students will not be able to make course changes after September 7, 2018. Also, please note that students/guardians may not request a course change for teacher preference.  
Grade-level administrators for the upcoming school year will be the following.  For students and parents, please note that the administrator assigned to that grade level is your key contact who will assist with any questions or concerns beyond the classroom.  (Any concerns students or parents/guardians may have during the school year regarding teaching and learning in the classroom should be addressed with the teacher initially.)

Grade 9 – Mr. Lakeman, Grade 10 – Mrs. Thomson, Grade 11 – Mrs. Ruth Bernadas-Tymko, and Grade 12 – Mr. Dumont

School fees may be paid at the start of the school year or parents/guardians may also choose a 10 month payment plan (to be done through PowerSchool).  For any families who require financial assistance with school fees, Elk Island Catholic Schools does offer a fee waiver program (all necessary forms should be completed no later than October).
ABJ One to One Parent/Student Technology Use Information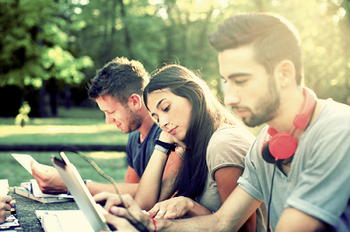 EICS announces One to One Technology Initiative Sherwood Park, AB – As part of Elk Island Catholic School Division's (EICS) priority of creating Quality Learning Environments in all of its classrooms, EICS is announcing our One to One Technology Initiative for the 2016-17 school year. As part of the initiative, students from Grades 4-12 will be invited to bring their own technology for use in their learning experience. EICS is championing this initiative with the ultimate goal of supporting and engaging all students to achieve success in a 21st Century learning environment. 
Going into the 2018-19 school year, the Chromebook lease program is now complete.  Please have your student bring their own device for the fall.  Staples has provided us with some information below if you need to purchase a device, with some affordable options. 
EICS One to One Information One to One Slideshow Information Staples BYOD page 1 Staples BYOD page 2
How Parents can Report Student Absences
Student Attendance can be accessed through the APP for mobile devices, phone access, or web site.  Please click on the link for more detailed information.
Report your child absent:
If your child is going to be absent, notify the school by:
1. Calling 1-877-246-9970, option #3
2. Using the SchoolMessenger App
3. Using the "SchoolMessenger" link in the EICS App (requires SchoolMessenger App installed on the phone)
4. Using https://go.schoolmessenger.ca/
Follow the ABJ Blog To Have School Info Sent To Your E-Mail

To follow the ABJ Blog, click below.  Click 'Follow' and school information will be sent directly to your E-Mail address.
Division News