ABJ Exam Schedule January 2019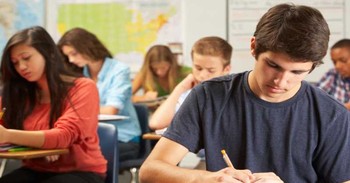 ABJ Exam Schedule January 2019
POWERSCHOOL LOGIN
ABJ Week of December 3 - 7
Click on the link above for information on the upcoming week at ABJ!
Castle Rock Research - THE KEY Study Guides and SNAP Workbooks - Education Prices until November 30th
Hello Parents,
Archbishop Jordan is pleased to partner with Castle Rock Research to provide educational resources to help support student achievement.
Over the last 20 years, hundreds of thousands of students in Alberta have used THE KEY Study Guides and SNAP Workbooks produced by Castle Rock Research as part of their studies. We have recently been introduced to a digital resource from Castle Rock called SOLARO (Student Oriented Learning, Assessment, and Reporting Online). We find that SOLARO is a comprehensive digital study guide that provides all the benefits and features of THE KEY along with the added value of more robust content and many more practice questions. The same year-end tests from THE KEY are now available in the SOLARO courses for Mathematics, English Language Arts, Sciences, and Social Studies.
While Castle Rock will continue to support and produce the THE KEY and SNAP, the focus moving forward will be on the many exciting benefits of SOLARO. We are working with Castle Rock to implement a new ordering procedure that will allow parents to order digital and print products online and still receive a preferred education discount (approx. 50%).  To help reduce shipping charges, orders will be individually packaged, aggregated and shipped to the school for pick up by each student. The next deadline to place orders is November 30, 2018 with shipment following immediately after the closing date of November 30, 2018.  After this date the educational discounts will not be available. For SOLARO digital orders, activation will be immediate upon emailed confirmation.
To order print or digital products please visit https://schoolorders.solaro.com/2041 to find your school.
Thank you,
The Castle Rock Team
T: 780.448.9619                     
orders@castlerockresearch.com                              
www.castlerockresearch.com
WELCOME TO ARCHBISHOP JORDAN CATHOLIC HIGH SCHOOL
You have selected an excellent school with strong traditions and an environment that reflects pride in being a Scot. Students at ABJ have the opportunity to learn in a vibrant school community with an enthusiastic and dedicated staff. Students are encouraged to participate fully in the academic, athletic, spiritual, leadership and social life of the school. This student leadership creates a school community that reflects great energy and develops outstanding members of our society and faith communities of tomorrow. At ABJ each individual will become known personally and where their skills and talents will contribute to the continued success of this great school. 
To all our new students: Welcome to Archbishop Jordan Catholic High School! To all our returning students: It's great to have you back!
- Mr. Dumont, Principal
WELCOME TO ABJ FOR 2018-2019!
Greetings!  The staff of ABJ would like to welcome back all of our returning students, and we are excited to welcome all of our new students joining us for the upcoming school year.  ABJ is an amazing school that is focused on connecting students with our Catholic faith, student learning and preparing our students for their future beyond high school!
Important Reminders:
Regular school supplies will be provided by the school – pens, pencils, binders, etc.  If students wish to bring specific or specialized items, they may do so on their own. Returning students are encouraged to use their previous supplies, but may replenish these if needed.  Grade 10 students who are taking Math 10C will be loaned a TI84 (graphing calculator) and grade 9 students will receive a scientific calculator that they will keep.
Returning students should bring their assigned school lock from last year or they will need to purchase a new one for $10.00.
Students are invited to bring a device to school as part of our "One to One Project".  This year, Elk Island Catholic School will no longer be offering the Chromebook lease program.  ABJ recommends that students bring a device that will work best for them and their learning style.  The device should be compatible with Google Apps for Education (also known as the Google Suite) – Google Docs, Google Drive, etc.  We recommend that the screen is large enough for a student to complete assignments, take notes, and edit work, etc. The amount that a student may use the device will vary depending on the nature of the course and their teacher's expertise.  We do not recommend students to use a smartphone for the "One to One Project". Please also note that students are expected to follow the One to One User Agreement - https://www.eics.ab.ca/download/100432 .
Course changes can be made during registration dates and during the first week of school in September.  Students will not be able to make course changes after September 7, 2018. Also, please note that students/guardians may not request a course change for teacher preference.  
Grade-level administrators for the upcoming school year will be the following.  For students and parents, please note that the administrator assigned to that grade level is your key contact who will assist with any questions or concerns beyond the classroom.  (Any concerns students or parents/guardians may have during the school year regarding teaching and learning in the classroom should be addressed with the teacher initially.)

Grade 9 – Mr. Lakeman, Grade 10 – Mrs. Thomson, Grade 11 – Mrs. Ruth Bernadas-Tymko, and Grade 12 – Mr. Dumont

School fees may be paid at the start of the school year or parents/guardians may also choose a 10 month payment plan (to be done through PowerSchool).  For any families who require financial assistance with school fees, Elk Island Catholic Schools does offer a fee waiver program (all necessary forms should be completed no later than October).
ABJ Locker Selection Procedures
New locker selection procedure at ABJ!
Grade 10, 11 and 12 students can choose their own locker. Please Note: Students in Grade 9 will be assigned their lockers.  Locks, combinations and lockers will be on the Grade 9 schedule. 
Students will need their ABJ student ID and ABJ supplied lock combination to sign in. If you do not have your school assigned lock, a new one can be purchased for $10 in the front office.
Website for login – abj.lockerassignment.com.   Student accounts have been created for access to the system.
User id - ABJ 6 digit student number.   Password - Student initials and student number.  For example: John Doe with student number 123456 would have a password of 'JD123456'.
** Student initials must be Capital Letters.   Upon sign in, students will be prompted to create a new password.
Students can ONLY choose from their Grade Zone as follows: Grade 10–Main Floor, Grade 11–Second Floor, Grade 12–Second Floor 
Locker maps are posted on website.    *Please choose and confirm locker online BEFORE putting your lock on the locker.*
*Only school issued locks are allowed on lockers.  Only 1 student per locker is permitted, there will be no student sharing allowed.
Students can login at any time to view their locker combination if they forget it.
OPTIONAL ABJ FEE PAYMENT PLAN - INSTRUCTIONS
This year ABJ is adding an optional fee payment plan to help parents pay for fees over the 10 month school year.  We hope this will assist with finances, especially during the busy September period.
Please click on the link below for easy to follow instructions.  This process can only be accessed via a Parent PowerSchool account.
ABJ One to One Parent/Student Technology Use Information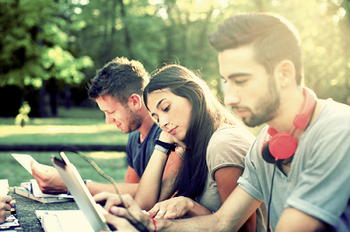 EICS announces One to One Technology Initiative Sherwood Park, AB – As part of Elk Island Catholic School Division's (EICS) priority of creating Quality Learning Environments in all of its classrooms, EICS is announcing our One to One Technology Initiative for the 2016-17 school year. As part of the initiative, students from Grades 4-12 will be invited to bring their own technology for use in their learning experience. EICS is championing this initiative with the ultimate goal of supporting and engaging all students to achieve success in a 21st Century learning environment. 
Going into the 2018-19 school year, the Chromebook lease program is now complete.  Please have your student bring their own device for the fall.  Staples has provided us with some information below if you need to purchase a device, with some affordable options. 
EICS One to One Information One to One Slideshow Information Staples BYOD page 1 Staples BYOD page 2
How Parents can Report Student Absences
Student Attendance can be accessed through the APP for mobile devices, phone access, or web site.  Please click on the link for more detailed information.
Report your child absent:
If your child is going to be absent, notify the school by:
1. Calling 1-877-246-9970, option #3
2. Using the SchoolMessenger App
3. Using the "SchoolMessenger" link in the EICS App (requires SchoolMessenger App installed on the phone)
4. Using https://go.schoolmessenger.ca/
Follow the ABJ Blog To Have School Info Sent To Your E-Mail

To follow the ABJ Blog, click below.  Click 'Follow' and school information will be sent directly to your E-Mail address.