Grad Ticket Request Form 2017
Archbishop Jordan Grad 2017 Ticket Request
TICKETS GO ON SALE AT LUNCH TIME - MONDAY, MAY 1 TO FRIDAY, MAY 5TH
GRAD 2017 - Full Day Ceremonies/Banquet/ Dance - Sunday May 28, 2017
GRAD 2017
Full Day Ceremonies/Banquet/ Dance  - Sunday May 28, 2017
(Note:  EICS Staff Recognition is Monday May 29, 2017)
8:00 am  Teachers helping arrive – Salon 8
10:00 am  Grads A – L  arrive to get their gowns, stoles, tassels/caps – Salon 8
10:30 am   Grads M –Z  arrive to get their gowns, stoles, tassels/caps – Salon 8
11:00 am   Line up Grads – Salon 8
11:30 -  1 :30 pm  Ceremonies Hall B/C
1:30 – 2:00 pm Grads take pictures and return gowns/stoles to Salon 8
2:00 – 5:30 pm Banquet staff getting Hall A/B ready for Banquet,
                           Teachers helping – getting ready for Banquet
                           Grads change into Grad clothes – take pictures
5:30 pm   Doors Open
6:00 pm Grad March
6:15 pm Dinner
7:45 pm  - 8:30 pm  Program

 8:45 pm – 1:00  am Dance
Archbishop Jordan Grad 2017 - Grad Newsletter March-April 2017
Grad Theme for 2017:  "We're Just Getting Started"

1.         IMPORTANT DATES
            Grad Blessing Ceremony for students –@ ABJ (Fri May 26)
Grad Mass – Saturday  MAY 27, 2017     OLPH  5:00 pm
Grad Ceremonies – Sunday  MAY 28, 2017  Shaw Conference Centre 11:00 am
           
            Grads Last Name A – L  at Shaw by 10:00 am,   M – Z   by 10:30 am
     We need some help from parents to help distribute gowns before ceremonies AND collect
     them after the ceremonies.  Ceremony approximately 2hrs to 2 ½ hours.
      Contact Ms Hallonquist if able to help: email margeh@eics.ab.ca
     
    Grad Banquet – Sunday  MAY 28, 2017  Shaw Conference Centre  5:30 pm
                                         
Banquet/Ceremony Tickets – Sold MONDAY  MAY 1 – FRIDAY MAY 5
            (lunch hour – upstairs common room )
                                                   
          Ceremony Tickets – each Grad will receive 2  tickets (already calculated in Grad fee)
                                             The Grad will NOT need a ticket for the CEREMONIES                    
            Extras can be purchased  for $5.00 each.  (No limit)
           
Banquet Tickets-  Grad can buy unlimited tickets  - 10 people max per table.  
2 grads can share a table of 10 –  example: one needs 6 tickets, the other 4, or 7/3, 5/5  etc.
 If there are empty seats at a table, they will be filled with other grads, so find a  grad you want to share with.
                                           
A BANQUET TICKET MUST BE PURCHASED for the graduating student!

   Banquet Menu:   $72.00 per person. 

 Salad:  Artisan greens, watermelon, grape tomatoes, feta cheese, ciabatta croutons,
             and balsamic vinaigrette
Entree:   (Vegetarian) Mediterranean vegetable tian, hazelnut risotto, tomato coulis
Entree:  Pan seared chicken breast with pomegranate glaze, mousseline potatoes, seasonal vegetables,
              and au jus
Dessert:   Vanilla bean panna cotta on expresso fudge brownie with berry compote AND
                Chocolate raspberry crunch slice with passion sauce and berries

   (Any Allergies?  Let Ms Hallonquist know, email margeh@eics.ab.ca , by May 9 )
                        
 We need some help from parents to help sell tickets in the upstairs Common Area.
   Contact Ms Hallonquist if able to help: email margeh@eics.ab.ca
         
    Thank you to those who have already called and left a message indicating that you would help with gowns or tickets.
High School Valedictorian Criteria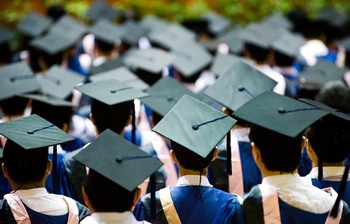 The Archbishop Jordan Catholic High School Valedictorian shall be the student with the highest overall academic standing in his/her graduating year. Criteria First consideration is the student must have been registered in Archbishop Jordan Catholic High School, as full-time student (as per Alberta Education), for at least 2 years. Secondly, the student has achieved a minimum 85% in Religion 35. Thirdly, In Grade 12, the student's overall average for the following courses will be used to calculate the highest overall average (calculated to 0.1):,  English 30 -1 / French Language Arts 30-1 , Social Studies 30-1 / Etudes sociales 30-1,  Math 30-1, One of: Biology 30, Chemistry 30, Physics 30 or Science 30 Marks will be calculated as of April 21, 2017 and the successful candidate will be notified no later than May 1, 2017.