Fine Arts
ABJ Fine Arts
Click HERE to visit the ABJ Fine Arts website and find out more about our programs!
Hit play below to check out our programs!
Art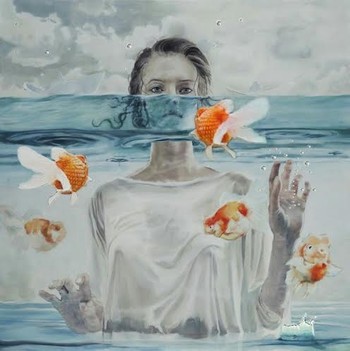 Archbishop Jordan Art is an active program that motivates students to grow to their full artistic ability. Students are able to work with a variety of materials and disciplines such as drawing, painting, sculpture, printmaking, mixed media, and photography. Additionally, students have the opportunity to display their art work in a variety of local and school art shows, throughout the school, and in various spaces in Sherwood Park and downtown Edmonton. Students also have the option to participate in the schools mural group where students design and paint murals to be permanently hung in the school. Students considering careers in the following fields require an Art Portfolio for admission to post-secondary institutions: Artist, Graphic Design (this involves the designing of CD's, movie covers, websites, books, magazines, logos; anything involving advertising and corporate identity), Industrial Design (furniture and objects), Architecture, Theatre/Set Design, Fashion Design, Film Making, Photography, Animation, Illustrations, Landscape Architecture and many more specialized programs, An art portfolio can be achieved by taking Art 10, 20 and 30.
For more information about the Art program here at Archbishop Jordan, please contact Ms. Alysia Wallace
Choir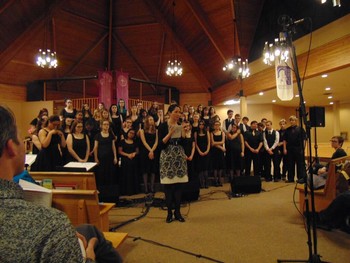 Choral Music 10, 20, 30
Choral Music 10,20, 30 is a choral performance option. Students will be introduced to a variety of music styles and periods. Vocal
tone, musical reading and ear training are developed through performing the repertoire. The choral music option is offered for
a full year for 5 credits. Full rehearsals are every Wednesday (early dismissal) 3:30-6:00 PM and each member must attend one 30 minute noon hour rehearsal each week. The choir competes at festivals and performs concerts throughout the year.
Archbishop Jordan High School's award winning choirs perform in festivals and concerts throughout the school year, including a tour to Montreal in May. Please join the Archbishop Jordan Choirs for their spring concert at Festival Place on Tuesday, May 14th at 7 PM.
ABJ Band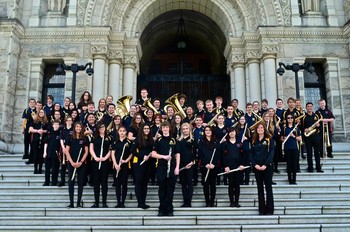 BAND
The High School Instrumental Music Program is designed to help students to develop competencies and to strive for excellence in a performance-orientated environment.  Students will study and perform a variety of music from different genres and composers to improve both as individual players and members of an ensemble.  Band students participate in seasonal concerts, band camps, workshops, festivals, play at football games and go on a spring tour (ie: Vancouver, Seattle, Kelowna, Disneyland, Cruise, Nashville, Memphis).  Band is offered for a full year for 5 credits.
TOUR DESTINATIONS
2017-2018     Canadian Anaheim Music Festival, Disneyland
2018-2019     Alberta/BC
2019-2020     Cruise or alternate Canada/US (to be confirmed by June 1, 2019)
2020-2021     Alberta/BC
 Beginner Band Course
The Beginner Band Program is designed to help students learn to play an instrument and develop competencies required to participate fully in the ABJ Senior High Concert band program. The program is sequential and developmental in its approach to instruction.  Students partner with both the teacher and technology to develop breathing techniques, posture, embouchure, tone production, musical literacy, and rhythmic ability.  Students work both individually and in small groups to advance their skill to a level that is required for entrance into the Senior High band program. 
For more information on the ABJ Band program, please contact Mrs. Linda Miller.